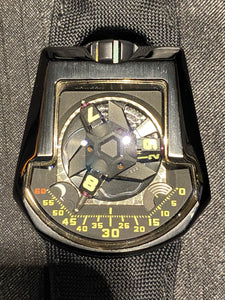 Uber rare Pre-Owned Urwerk UR 202.BPT self-winding automatic watch, features a 45.6mm x 43.5mm platinum case surrounding a black dial on a black fabric strap with a hook and loop closure. Functions include the moon phase.
Black Platinum 10-piece limited
This watch comes with paper.
You don't see one of these everyday. Urwerk yearly production never exceeds 150 pieces, and this is one of the rarest watches. The UR-202 BPT.
A Special Edition, only 10 ever made. Most black watches are made in light weight materials, but URWERK chose platinum for its luxury feel and weight. Coated using a PE-CVD for a dark and moody feel.