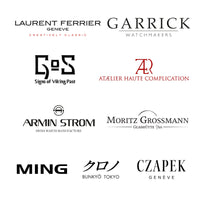 INDEPENDENT WATCHMAKERS
BackWatch Department is the specialist sales platform for independent watches and their collectors. To us, independent watchmaking represents the most innovative and original side of Haute-Horlogerie. We offer a highly-curated selection of watches from the great of independent watchmaking Our goal is to help tell the story behind each of these great independent masters of horology.
LEARN MORE
Here's what buyers are saying about Back Watch Department
Back Watch Department was professional through and through. He was honest and candid and ensured to answer any questions I had. Highly recommend.

J. S From Hong Kong
Gentile corretto serio e disponibile

Lucio m. From Italy
One of the very best communication experiences I've had. Despite snafus in customs, the seller continue to check in with me, every step of the way. A+++++!!

Robert M. From U.S.A.
Smooth and easy transaction. The dealer responded promptly to my queries which resulted in my order being delivered a few weeks earlier than initial estimate. I will recommend Back Watch Department limited for your grail watch and other watch needs.

Jayson P. From Australia
Very quick response to all of my messages. Quick delivery.

Tom T. From Nederland