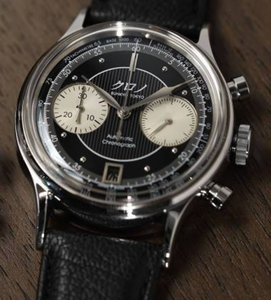 The first all-new model appeared on April 28, 2020: The Chronograph 1. This was the first time that an affordable watch was announced and released for sale first under the international Kurono Tokyo brand rather than the domestic Chrono Tokyo label.
The Chronograph 1 uses the Cal. NE86A, a two-subdial variant of Seiko's Cal. 8R family. This is an upscale column wheel chronograph movement with a novel vertical clutch system operated by a three-pointed reset hammer, so the chronograph function works especially smoothly. The Kurono Chronograph is modified to remove the hour register at 6:00, replacing it with a date window. It includes a 30 minute counter at 9:00 and running small seconds at 3:00. This movement is produced by Time Module, Inc. which is Seiko's OEM movement arm.
Although it is not a modular movement, Cal. 8R is not an especially thin watch movement, measuring over 7 mm thick. This means that the Kurono chronograph is quite a bit thicker than the previous slim time-only models. Asaoka's case de-emphasizes the bulk using a thick caseback below the central case band, but it still sits quite high on the wrist. This is made worse by the use of a boxed crystal, which Asaoka prized as it helps magnify the outer tachymeter track and helps exemplify the classic styling. The minutes counter includes a special hand shaped like a traditional Japanese "kyūdō" arrow.