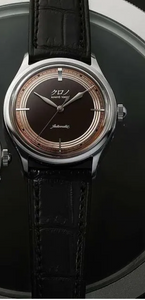 Coinciding with the third series Chrono Tokyo watches, Kurono Tokyo released their "Reiwa" editions. The name refers to the current era of Japan's official calendar: The Reiwa era began on May 1, 2019 as Naruhito ascended the throne as Emperor of Japan. So 2019 is known as "Reiwa 1" in the calendar.

The Reiwa models shipped with a genuine crocodile leather strap. It is a "square scales" leather in matte black.

Kurono Tokyo issued 50 examples of each reference, for a total of 100 "Reiwa" watches produced. These were announced on November 20, 2019, went on sale on November 25 at 13:00 PM JST. The Copper model sold out in 6 minutes, with the Silver version lasting just 16 minutes. Shipments began in March, 2020, despite the pandemic.